Natural vision is meant to be effortless; without stress and without strain.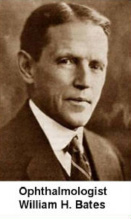 Dr. William H. Bates, (1860 – 1931) M.D., a successful ophthalmologist and the founder of the Bates method wrote:
"The fact is that when the mind is at rest nothing can tire the eyes, and when the mind is under a strain nothing can rest them. Anything that rests the mind will benefit the eyes."
"All errors of refraction can be cured by relaxation. All methods of treatment, therefore, are simply different ways of obtaining relaxation."
Relaxation of the mind means the relaxation of the whole body—it also follows that improvement in the eyesight is always accompanied by an improvement in health and mental efficiency."
Your eyes already know how to see clearly. Dr. Bates discovered that we interfere with that vision process. The basis of returning to clarity begins with learning how to relax.
Conventional approaches to treating, but not correcting, vision problems include the use of:
glasses, contact lenses, drugs, and surgery.
Unfortunately, the underlying causes, stress and strain, are not addressed!
Our educational programs, based on the Bates Method, provide you with an opportunity to re-learn correct, natural, and relaxed vision habits. There are literally hundreds of ways to improving eyesight; the key is to find those which work for you.
Avoid that downward spiral into thicker and thicker glasses.